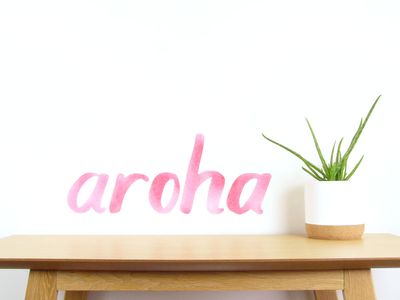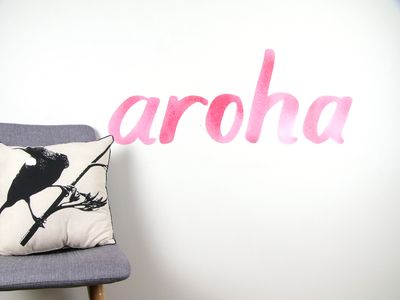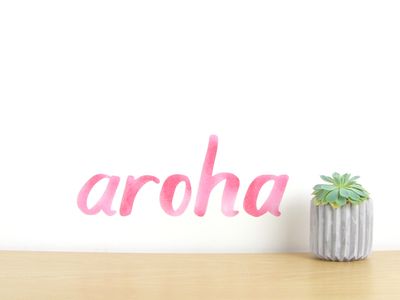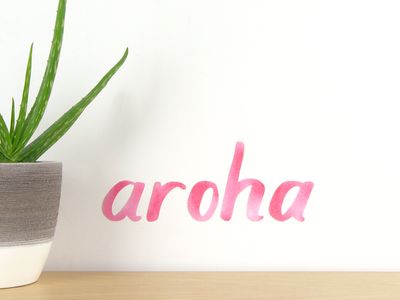 Aroha wall decal | Aroha wall art
$30.00
or 4 interest free payments of $7.50 with
learn more
Our aroha wall art is a great way to show that your home is full of love. Aroha, the beautiful Maori word is commonly translated as love. It doesn't have a direct translation to English, and it's meaning includes affection, sympathy, charity, compassion, love, empathy.
In New Zealand it is used in everyday language by both Maori and Pakeha, and holds a powerful body of meanings depending on the situation in which is its used.
Our aroha wall art is hand painted in watercolour, then printed by us onto our fabric decal to create a beautiful contemporary décor for your space.
Tiny aroha wall art decal
Sheet size is: 12cm x 15cm (finished size approx 9 x 26cm) and contains:
2x 'a' - 5cm x 4.5cm
1x 'r' - 4.5cm x 4.5cm
1x 'o' - 3.5cm x 4.5cm
1x 'h' - 5cm x 9cm
Small aroha wall art decal
Sheet size is: 20cm x 15cm (finished size of word approx 13cm x 34cm) and contains:
2x 'a' - 7cm x 6.5cm
1x 'r' - 6.5cm x 6.5cm
1x 'o' - 5cm x 6.5cm
1x 'h' - 7.5cm x 13cm
Medium aroha wall art decal
Sheet size is: 34cm x 24cm (finished size of word approx 22cm x 55cm) and contains:
2x 'a' - 11/12cm x 11cm
1x 'r' - 11cm x 11cm
1x 'o' - 8.5cm x 11cm
1x 'h' - 22cm x 21.5cm
Large aroha wall art decal
Sheet size is: 48cm x 44cm (finished size of word approx 36cm x 93cm)
2x 'a' - 19.5cm x 17.5cm
1x 'r' - 17cm x 17.5cm
1x 'o' - 13.5cm x 17.5cm
1x 'h' - 19.5cm x 34.5cm
SKU: STR1161