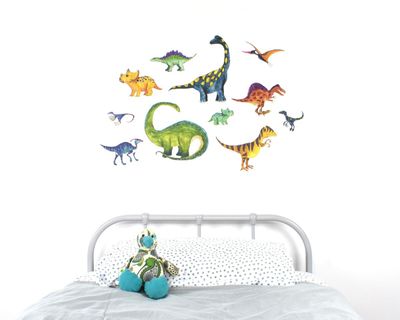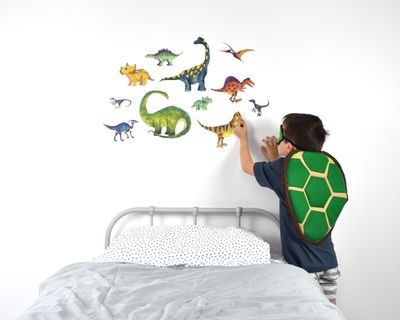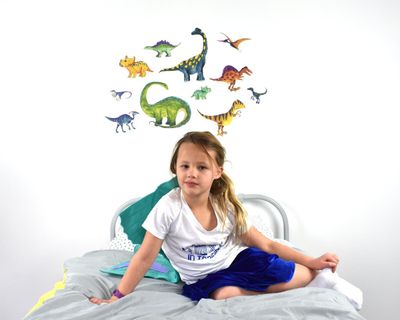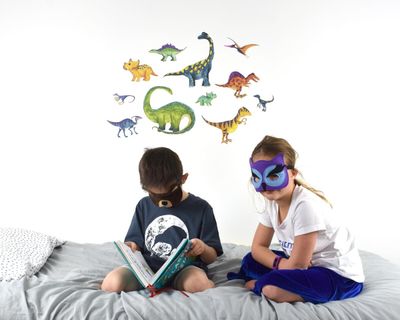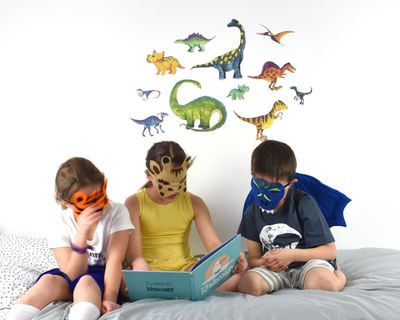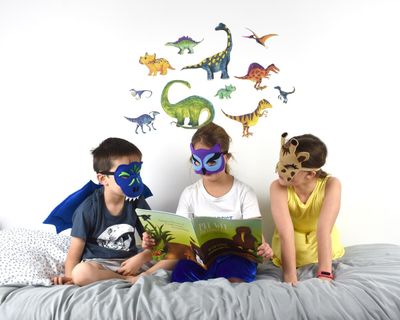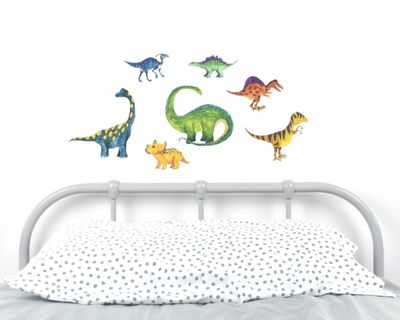 Dinosaur wall decals
Katherine Quinn
$115.00
or 4 interest free payments of $28.75 with
learn more
Roar! Add some paleolithic fun to your walls with our dinosaur wall decals. Have fun rearranging them and moving them around your walls, and creating fun stories with your kids.
Removable dinosaur wall decals are a great option for decorating your child's room, as you can rearrange them as often as you like. If you need to change the layout of the room, you can move them as required. Or you can just rearrange the design to keeps things interesting! Once your child gets older, you can remove the dinosaur wall stickers and update them with something new.

Designed by Hawkes Bay artist Katherine Quinn, her original design is printed onto our reusable fabric decal material which won't rip, wrinkle or damage your space. Our reusable dinosaur wall stickers adhere to any smooth surface and can be repositioned and moved many times. We coat them with a waterbased laminate so they can go outdoors, and sticky little fingermarks can be easily wiped off.
Medium Dinosaur wall decals
Sheet size is 34cm by 24cm and contains:
1x diplodocus - 17cm x 14.5cm
1x triceratops - 11.5m x 7.5cm
1x stegosaurus - 12.5cm x 5.5cm
1x raptor - 15.5cm x 13cm
1x spinasaurus - 14.5cm x 9cm
1x saltasaurus - 17.5cm x 17cm
1x Parasaurolophus - 11.5cm x 7cm
Large Dinosaur wall decals
Sheet size is 48cm by 44cm and contains:
1x diplodocus - 26cm x 23cm
2x triceratops - 18m x 11cm (yellow), 11.5cm x 7cm (aqua)
1x pterodactyl - 15cm x 9cm
1x stegosaurus - 19cm x 9cm
3x raptors - 24cm x 21cm (yellow), 10cm x 9.5cm (blue), 11cm x 6cm (purple with egg)
1x spinasaurus - 22cm x 14cm
1x saltasaurus - 29.5cm x 27cm
1x Parasaurolophus - 18cm x 11cm
SKU: SLR1324