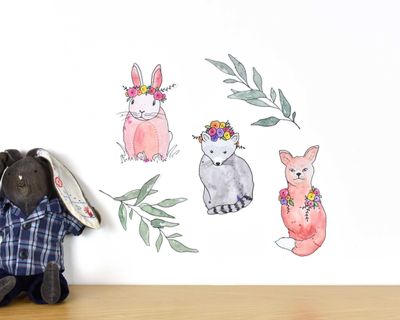 Woodland animals wall decal
Clouds of Colour
$0.00 $0.00
Let these delightful woodland animals take pride of place in your nursery or woodland themed room, adding a whimsical woodland feel to your space. The bunny, fox and raccoon are all adorned with flower crowns, and come with two leafy branches to finish off your woodland scene
Removable decals are a great way to decorate, especially in children's rooms. As your child gets older, you can remove the woodland decals and update them with something new. Reusable wall decals can be rearranged as often as needed. If you need to change the layout of the room, you can move them accordingly. Or you can just rearrange the woodland wall art to keeps things interesting.

They aren't just for walls either. Pop them on a cabinet, cupboard door or even your electronic device to instantly add character!
Designed by Nelson illustrator Bec Brown of Clouds of Colour, her original design is printed onto our fabric decal to create a personalised touch to your space.
Medium Woodland animals wall decal
1x pink bunny - 10cm x 16.5cm
1x red fox - 9cm x 18cm
1x Racoon - 10cm x 16cm
1x green leafy branch – 19cm x 11cm
1x olive green leafy branch – 20cm x 9cm