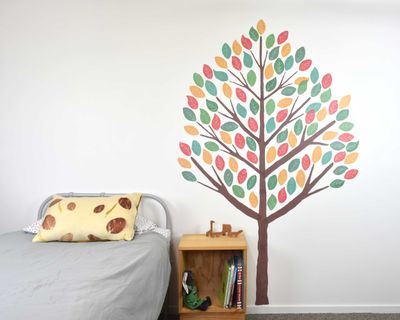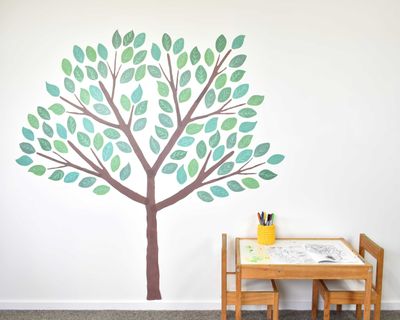 Interactive tree wall decal
$399.00
or 4 interest free payments of $99.75 with
learn more
Colour of leaves:
Green Red & Yellow
Qty of leaves:
Tree + Full set
Our interactive tree wall decals are so versatile, you can really make it your own. The branches come separately, so you can arrange them in different ways. To get you started, we've shown three different options – tall, round, and two trees.

There are different colour options – all green for a spring/summer vibe, a mixture of green and autumn colours for a colourful year-round vibe, and red and yellow to give an autumn feel. You can purchase extra sheets of leaves, so you can update your tree decal as the seasons change.
If that's not already versatile enough for you, there is an additional option! You can create your own leaves, drawing them using our free printable, and then stick them up with our double sided decal fabric. Or let your imagination run wild and create your own objects to add to the tree – flowers, birds, photos, names – the options are endless!

Designed by the creative director of Sticky Ticky, Christchurch artist Rose Wells, her original hand-painted design is printed onto reusable decal fabric to create a versatile artwork for your space.

Extra large interactive tree wall decal
Contains two sheets, and comes rolled up in a cardboard box.
Sheet one contains:
1x brown trunk – 10cm x 20cm
4x large brown branches – 61cm x 20cm, 62cm x 15cm, 65cm x 23cm, 60cm x 19cm
4x medium brown branches – 44cm x 12cm, 44cm x 11cm, 41cm x 12cm. 37cm x 9cm
3x small brown branches – 31cm x 10cm (2), 31cm x 9cm
48x green leaves, in four different shades of green OR 24x red and 24x yellow leaves
Sheet two contains:
24x red leaves
24x yellow leaves
OR
Extra large interactive tree wall decal – half set of leaves
This option contains just sheet one of the full tree. This is a great option for a classroom, or other group setting, where students or community members can create their own leaves to add to the tree.
Extra large – extra set of leaves

This option is for an extra sheet of leaves, if you're wanting to change the leaves with the seasons.
Optional extras
Double sided adhesive strips for attaching extra leaves or objects to the tree
Printable leaf outlines
Large interactive tree wall decal: TBC
Medium interactive tree wall decal: TBC
SKU: STR1075A-FL