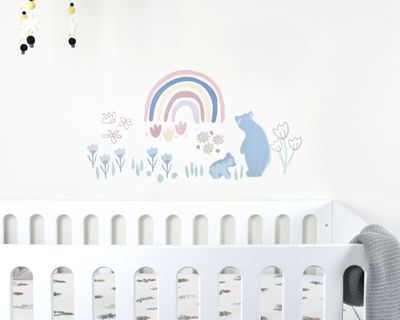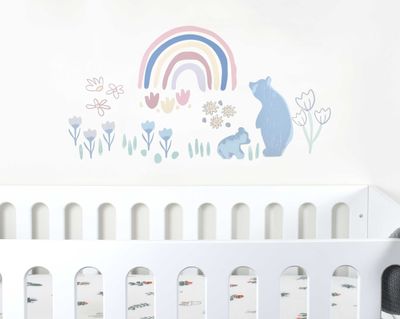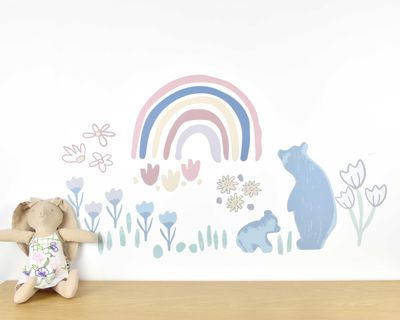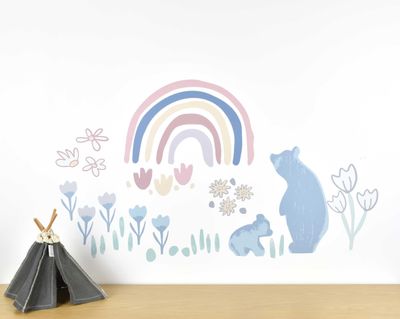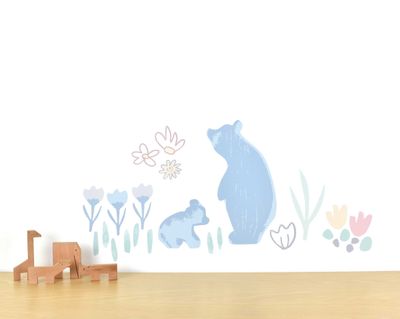 Baby Bear nursery wall decal
Wirihana Design
$80.00
or 4 interest free payments of $20.00 with
learn more
Decorate your nursery with our Baby Bear wall decal sets. Our nursery wall decals are a great way to personalise your baby's room. Both sizes include a mama bear and baby bear, along with lots of plants and flowers. The large set includes a rainbow (which can be purchased seperately here) as well.
Removable nursery decals are a great way to decorate, as when your baby gets older, you can remove the nursery stickers and update them with something new. Reusable nursery wall stickers can be rearranged as often as needed. If you need to change the layout of the room, you can move them accordingly. Or you can just rearrange the design to keeps things interesting for your baby.
Designed by Auckland artist Melanie Sharpe of Wirihana Design, her original design is printed onto our fabric decal to create a beautiful décor for your space.
Medium bear wall decals includes:
1x mama bear - 15cm x 26cm
1x baby bear - 11.5cm x 10.5cm
1x green plant - 8cm x 15cm
2x grey flowering plants - 4.5cm x 10cm
1x blue flowering plants - 4.5cm x 10cm
1x grey & white flowers - 5.5cm x 5.5cm
2x pink and yellow daisies - 6cm x 5cm, 5.5cm x 5.5cm
2x tulips - 5.5cm x 5cm (pink and yellow)
1x grey and yellow flowers - 5cm x 4cm
8x blades of grass - 1.5cm x 5cm
3x green pebbles - 2.5cm x 3.5cm, 3cm x 2cm, 2.5cm x 2cm
3x grey pebbles - 2x 2cm x 1.5cm, 1.5cm x 1.5cm
Large bear wall decals includes:
5x rainbow shapes - 31.5cm x 20cm (pink), 26cm x 17cm (blue), 20.5cm x 15cm (yellow), 16 x 12.5cm (burgundy), 11cm x 90cm (lavender)
1x mama bear - 15cm x 26cm
1x baby bear - 11.5cm x 10.5cm
1x green plant - 8cm x 15cm
3x grey flowering plants - 4.5cm x 10cm
2x blue flowering plants - 4.5cm x 10cm
3x grey & white flowers - 6.5cm x 6.5cm, 5.5cm x 5.5cm
3x pink and yellow daisies - 8cm x 6cm, 6cm x 5cm, 5.5cm x 5.5cm
3x tulips - 5.5cm x 5cm (pink, yellow and burgundy)
3x grey and yellow flowers - 5.5cm x 5cm, 2x 5cm x 4cm
9x blades of grass - 1.5cm x 5cm
4x yellow pebbles - 2cm x 1cm, 1.5cm x 1.5cm, 2x 1.5cm x 1cm
3x green pebbles - 2.5cm x 3.5cm, 3cm x 2cm, 2.5cm x 2cm
3x grey pebbles - 2x 2cm x 1.5cm, 1.5cm x 1.5cm
SKU: SLR1325