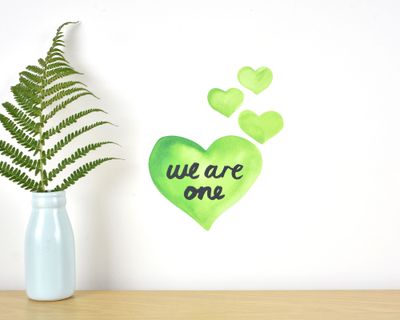 We are one wall decal tiny - fundraising for Christchurch mosque attack victims
$18.00
or 4 interest free payments of $4.50 with
learn more
In the immediate aftermath of the Christchurch mosque attacks, I was in disbelief over how someone could go to such lengths to make one group of people feel so unwelcome here. I have called this city home for most of the last 19 years, and I felt that anyone who lives here or visits here should feel welcome. In order not be overwhelmed by the situation, I focussed on love, and thought about what I could do to help people feel welcome here.
I thought that creating hearts with welcoming, unifying words that could be put up to show people that everyone is welcome might be a nice way to do this. After giving it some thought I decided to go with green, as red felt inappropriate given the circumstances, and green is an important colour in Islam. It is the Prophet Muhammad's colour, and in the Quran it is associated with paradise. Each word or phrase is also written in arabic and maori to further symbolise unity.
In order to support the families of the victims and those who were injured, I will be donating 50% of each sale to The Christchurch Foundation's 'Our People, Our City' fund.
Tiny Sheet size is 15cm by 12cm and contains:
1x 'we are one' green heart decal
3x small green heart decals
SKU: SCR1201